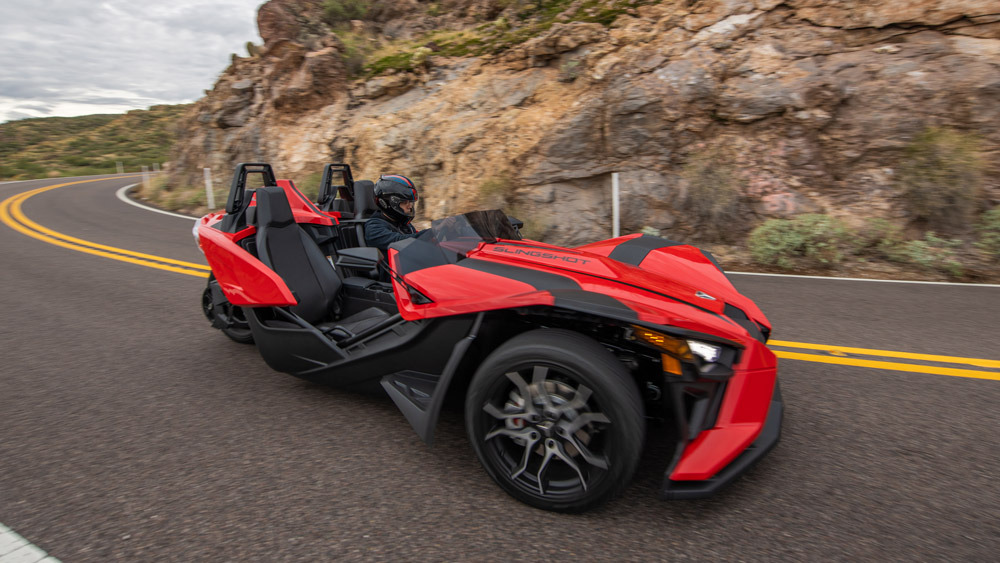 Slingshot's interior has been revamped for 2020, significantly upgrading the materials, finishes and build quality. There's been great attention paid to touchpoints – places where your body has to come into contact with the vehicle. Switchgear is better, more precise. LED interior lighting is a welcome addition. The challenge with an open cockpit like this is balancing durability and weather resistance with comfort and styling. Slingshot walks the line between modern and stark. There's not a whole lot of covered storage in the cockpit – a glove compartment, center armrest, and two lockable bins behind the seats – but it's a little smarter and easier to access than before, and there are several places to stash a cellphone or wallet. Standard keyless ignition cleans up more clutter, and gives you a cool "Start/Stop" button in the deal. The steering wheel is now multi-function, and a racy flat-bottomed model. Despite the upgrades and classier look, Slingshot's cockpit can still be rinsed out with a hose and drained by pulling a plug in the floorboard.
Manual Shifting 2020 Slingshot
The manual transmission allows you to enjoy the full-body experience of driving the Polaris Slingshot. Cruising through town or driving up the canyon, this will put a smile on your face.
Automatic Shifting 2020 Slingshot
New quick-shifting AutoDrive transmission with 2 drive modes, giving everyone the ability to personalize their drive.